The Right Financial Brand Name Makes All The Difference
Financial services branding—naming, in particular—requires a delicate balance; one that straddles the line between sounding too commonplace and too creative. After all, your clients are trusting you with their hard-earned money, so while you need to be unique and memorable, you also need to instill a sense of trust and credibility.
To strike the right tone, we work to create financial brand names that communicate the firm's core strengths and key attributes. We may also utilize a metaphor to convey the qualities of the company or a descriptive hybrid name that is part literal and part evocative.
Here are a few of the financial services companies we have branded, along with a short rationale as to their name.

FourBridges Capital – A mergers & acquisitions firm based in Chattanooga, TN. The company "spans" the middle market and provides bridge loans. In addition, the city is at the crossroads of four rivers. The name captures a sense of the locale, as well as providing a metaphor for connecting clients and capital.

Parkworth Wealth Management – As a fee-for-service wealth management provider, this client needed a name that exuded a sense of both warmth and trust. In this case, we chose a "positive connotation" approach to naming, choosing words that are perennial favorites but combined in new and interesting ways. You can see this naming strategy in brands such as OnStar and BrightHouse. These two-word combo names also open up two sets of brand lexicon or marketing language to draw upon. The word "park" conjures up pleasant and welcoming environments. The word "worth" brings up net worth, high worth, worthwhile, etc. Blending these concepts created a new name that sounded "money-ish" or "financial-ish." In other words, it puts the potential customer in the right mindset, one that compliments the brand… creating financial environments where customers thrive.


Radiant Credit Union – When SunState, a Florida-based credit union came to us seeking to transition from a federal to a state charter, they wanted something that would stand out, make a statement and get noticed. They needed something smarter and brighter. With the name, Radiant, they were able to speak to their brilliant core attributes and guiding principles of positivity and proactive customer service. It was no longer about a state of locations, but a state of mind, and their ability to outshine the competition no matter where they operated.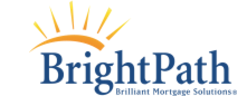 BrightPath Mortgage – Here is another example of a positive connotation, or perennial, brand name. The word "bright" communicates a number of messages, including insight, clarity, and brilliance. The word "path" provides a metaphor for leadership, guidance, and direction. The two concepts are mutually reinforcing, creating a unique and compelling brand identity that sounds positive, upbeat, and aspirational in nature. The name positioned the company to speak to a unique set of tools and services, using the tagline "Brilliant Mortgage Solutions."
If you are in need of a brilliant brand name for your financial services company, just fill out our Getting Started form for a no-obligation assessment of your project. Or call us at 828-877-2699 to discuss your needs. Either way, we'll provide recommendations and solutions for branding that adds value to your bottom line
Related Financial Company Naming & Branding Articles
Naming a Financial Service Company – Three Branding Strategies for Creating a Solid Corporate Identity
Naming a Corporation – Four Strategies for Company Naming Success
Successful Naming Strategies for Consulting Companies – Use these Three Options for Building a Timeless Brand!
With over twenty-five years of company naming and branding expertise, Tungsten founder Phil Davis is a marketing and advertising veteran, having personally named over 250 companies, products and services worldwide. As a sought-after naming expert, Phil has been quoted in The Wall Street Journal, Inc.com, Businessweek, Entrepreneur, and Newsday.
Looking for naming and branding help?
Insight & articles to give you an

edge.