Introduce yourself...the bright way
The process of naming a new company, product, or service often produces more questions than it answers. Such as:
- How do we go about creating/generating naming ideas?
- Who should be involved in the naming process?
- How important is domain name availability?
- How about trademark research and clearance?
- Should we do some type of name validation research?
- How much does something like this cost?
We hear you - in fact, we've heard it all! We've been doing this since Y2K (remember that?) Our years of listening to our clients and building brilliant brands have allowed us to hone our process, and produce naming solutions that truly shine. By collaborating with you and your team, we work to focus your branding goals and objectives into a strategic framework that guides the process and accomplishes your needs.
Did we mention

clarity

?
Because it's our belief that brilliant branding is supposed to be the best reflection of you. And while it's nice to win awards, our goal is to help you win business.
What we'll deliver
Decision Making Action Plan (DMAP)
Brand Discovery
Naming Strategy Development
Brand Name Creation
Brand Name Rationale
Tagline Exploration
Domain Name Acquisition
Preliminary Trademark Research
Brand Name Validation Research
Comprehensive Trademark Research
International Linguistic Testing
Smart company names begin with an intelligent naming process
Many company naming projects fail, not for lack of ideas, but for lack of process. Naming projects requires proper guidance and clear direction. While it is not an exact science, we have developed an approach and perfected a process that proves successful time and time again.
First things first
It starts by truly listening, asking revealing questions, and taking a deep dive into your world. We then get to work crafting your story. We do the heavy lifting of researching, imagining, and presenting compelling company brand names that can serve as future messaging platforms - ones that grow and expand over time.
There is no "one-size-fits-all" naming strategy -- that would just be a template, or worse yet, a passing trend. The best company name is the one that meets your​ brand criteria.​ In other words, it has the right fit-to-concept for your naming project and reflects what matters most to you.
The results?
Names that reflect your unique core values and inspire conversations -- from clever,​ creative product names, to tried and trusted professional brands.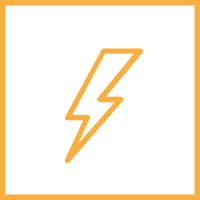 So, what

exactly

is included in a naming project?
The company name is your hello, your introduction to a deep and meaningful conversation about your business. That's why we work to provide an entire set of verbal tools to help carry that conversation further. A typical company naming package includes:
- Brand Name Creation (Your identity)
- Descriptor Phrase (Your "what")
- Tagline Development (Your "how")
- Brand Name Rationale (Your "why")
- Domain Name Acquisition
- Preliminary Trademark Research
I'm looking for a product name. Is the process the same?
While the industries may vary, the naming process remains consistent - analyzing the exact needs and brand parameters of each project and creating names that blend, dovetail, and complement the overall company brand strategy and naming hierarchy. We create names that get the job done!
Naming a product comes with a unique set of challenges. For example:
- Does the name need to relate to the company name?
- Does the name need to fit into an existing naming architecture?
- Will the product name grow into a product line and need modifiers?
- Should the product name "fit in" or "stand out?"
- Does it need its own domain name?
Your product name has one shot to make the best possible impression. It requires insight and strategy to determine which benefits should lead and which should follow when naming your product. Our process helps uncover those attributes and showcase your product in the best light possible.
Searching for a brand strategy that points you in the right direction?
Looking for another service?